Covid-19 Notice – Changes In Practice
Please Note Our Booking and Arrival Protocols.
UPDATE: September 2021: We are open and seeing patients on Mondays, Tuesdays and Thursdays. We are currently booking about seven to ten days ahead. Same-day appointments are sometimes possible if you call ahead. We will not be seeing walk-in patients at this time. New patients are most definitely welcome by appointment.
PLEASE BOOK ONLINE »

Please email us at info@DrKent.ca to schedule your visit, it is the quickest and easiest way.
The health and safety of our patients and our team is our top priority. Please be assured that we are actively taking precautions to protect your health. We are doing everything possible to ensure continued care and safety of our patients.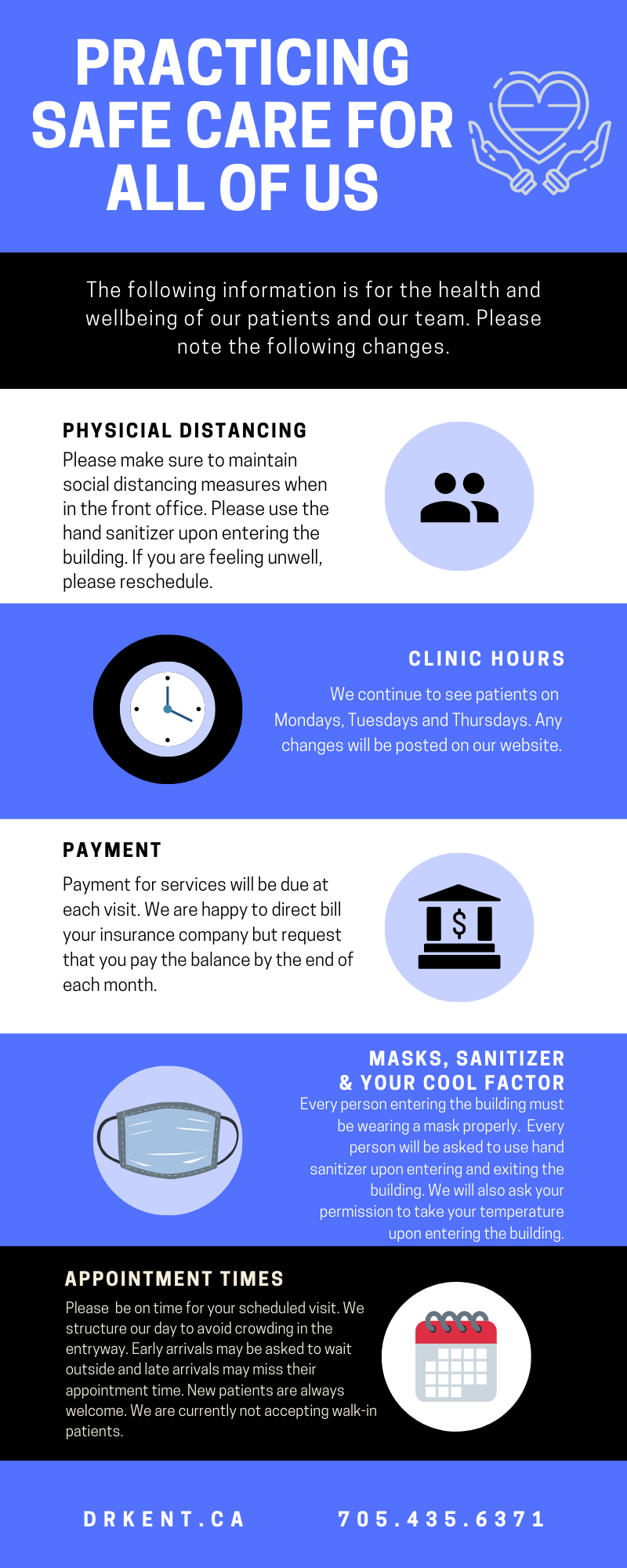 Our Mission
Our mission is to support our local health care teams by easing some of the visits to hospitals for non-virus related issues. We fully support the efforts of the Simcoe-Muskoka District Health Unit, the Province of Ontario and the Canadian government to help our health care system take on this tremendous burden. We all have to do our part to ensure we don't spread the virus to any vulnerable populations. We encourage our patients to stay focused on the best practices to boost their health and immune system.
Trust your bodies incredible ability to heal and fight illness.
Eat well.
Reduce sugar and caffeine.
Get exercise or yoga into each day.
Sleep enough.
Work on reducing stress.
Make sure to take vitamins C and D for immune support.
And stay positive!
Please email or give us a call with any specific questions or concerns. We are here for you. We will continue to update you as the situation evolves.

COVID-19 Notice | (705) 435-6371