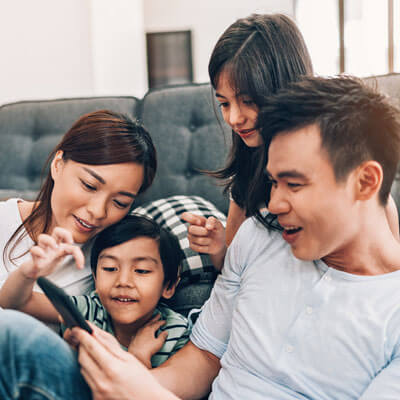 Alliston Chiropractic Wellness Centre Reviews
What others say about chiropractic care at Alliston Chiropractic Wellness Centre can help you make the right health care choice. Review a selection of Alliston Chiropractic Wellness Centre patient testimonials below and please contact the office if you have any questions. You'll like what you read about this Alliston Chiropractor!
Looking to visit us for the first time?
Read our reviews on Facebook and Google to hear what our patients have to say.
Confident I Can Be Better
Dr. Newton was exceptional and I felt very, very comfortable with him (past experiences not so good). He also was very generous in the area of my financial situation and made me feel I was not a number or if I may say "greedy". Just a business out to make $. I am so grateful. I am confident he will assist in my needs!
-Judy Q.
Finally Feeling Better!
Thanks to Dr. Newton! Finally feel like I can get some help been to physiotherapists and chiropractors and never really felt like anything helped. Thanks so much!
-Sam S.
Looking Forward To More!
Can't wait now my xrays are done to get started I find it absolutely comforting Dr Newton wouldn't touch me until he saw what was going on with my bones incase the standard adjustment wasn't for me I feel like I'm in good hands !!! And not to mention got the ball rolling and I was sent for xrays right away looking forward to going back!
-Sarah H.
Very Impressed With This Office
I was very impressed after my consult and 1st treatment. I learned more about my spine than I have ever been told. I also appreciated the advice re possible causes and ways to improve i.e nutrition and exercise and not to rely on over the counter pain killers but a more natural approach. All right up my alley. I have already recommended them to a neighbor.
-Mary L.
Most Enjoyable Experience
It was a most enjoyable experience and I would highly recommend him to anyone with back/neck discomfort.
-Liz O.
Unbelievable!
The result of my adjustment was unbelievable. Thank you for such kind and reassuring support.
-Anna M.
Truly Cares
Our friend said you were really good. Just a few visits and I am sincerely impressed with your care and concerns
I believe that I will feel so much better very soon with your treatment plan. Thank you for being a doctor who truly cares about his/her patients.
-Gayle A.
I'm Impressed
I moved to Alliston 6 years ago and dropped chiropractic care. I knew for sometime I should find a new chiropractor nearby and finally reached out to Alliston Chiropractic Wellness Centre. I've had two appointments and have been impressed both times. Communicating by email with Melissa has been excellent. Dr. Kent Newton listens well and has been great answering any questions and look forward an ongoing care program.
-Mark H.
Above & Beyond
I was very impressed with the quick turnaround in receiving initial information from Melissa as it was while their office was closed over the holidays…that's going above and beyond! Had my first appointment with Dr. Kent much sooner than expected – I know I'm in great hands with him! Very professional, polite and friendly…many thanks to you both.
-Tina L.
Amazingly Friendly
Amazingly friendly and accommodating staff! I felt so welcome even with my first phone call. I am 9 months pregnant and had great discomfort in my hip/pelvic region. They were able to get me in very quickly and Dr. Kent was very knowledgeable and extremely helpful during my first visit. I couldn't recommend them more!
-Danielle G.
Highly Recommend
Staff is very Courteous, friendly and very helpful! Their response to my email was quick. They re-arranged their schedule for me to be seen the next day because of the level of pain I was experiencing. Very pleased with the quality of care, and would highly recommend them!
-Don M.
Absolutely Amazed
I was absolutely amazed at my first chiropractic experience. I have absolutely recommended it to everyone especially with Dr.Kent. Everything was explained and I felt reassured that I was in good hands. I am looking forward to my future appointments! I am no longer sceptical!
-Vanja G.
My Pain Was Reduced Greatly
Dr Kent and the staff were friendly and professional. I was in agony and could barely walk in on my first visit and after only 1 treatment my pain was reduced greatly within hours and I am walking like normal again. Very greatful, looking forward to my next visit.
Beyond Grateful
I was recommended by a good friend to Dr. Kent and I am beyond grateful that she sent me his way! The office was friendly from start to finish. I had a great experience through my visits even through the pain.
-Carla F.
Very Thankful
I am so very thankful for Dr. Kent and all of his staff. I called with back spasms and unable to see my primary chiropractor and they made space for me and saw me right away. Knowing I was only here for a short time didn't matter. They all just wanted me to feel better. Thank you so very much!!
-Margaret M.
Friendly & Informative
Dr. Kent is very friendly, informative and makes you feel comfortable with the process of treatment. Melissa is very helpful and friendly as well. I look forward to having this team on my side for treatment.
-Tabitha E.
Pleased with Treatment
Dr. Kent is clearly passionate about his work. He had an idea of what he would be dealing with in my case just from asking questions and then the x-rays he provided in house confirmed his suspicions. Dr. Kent also offers seminars to learn more about chiropractic treatments and what he is trying to achieve for his patients. I am very pleased with my current treatment and plan on continuing.
-Isabella M.
Knee Pain Relieve
Originally I went to Dr. Newton's office for acupuncture treatment to relieve the pain in my knee. After and Xray of my spine the result also showed deterioration of the bones in the lower part of my back.
We decided on a year of monthly bi-weekly treatments and specific exercises for my back and neck to heal and stop further damage. I can not tell you how grateful I am we made that decision. Dr. Newton is a capable and professional person, who tfakes the time to explain the details of various treatments that will assist you to feel better. The health and flexibility of your spine is extremely important, especially when you are getting older. I still go faithfully for a monthly adjustment of my spine.
I highly recommend Alliston Chiropractic Wellness Centre.
-Charlotte B.
Gerdy's Story
Ginger's Story
Back Pain
I have always been strong and very active. I hurt my back 2 years ago and for over a year all I could do was complete my shift at work, medicate and lay down. My life as I knew it stopped. A friend suggested I see Dr. Kent. Well, my life in 2 months has improved so much that I have stopped my pain medication. I have started to walk/jog again and I am sleeping through the night. Before coming to Dr. Kent I felt I would have to apply for disability… Today I believe I will be restored to my original state of good health.
-Karen
Pat's Story
Cora's Story
Bad Back
I had hurt my back shoveling snow and the ointments and pills I was taking were not working. I was hesitant to try chiropractic and now I'm glad I did. Now I feel much better, as do all my children. As part of my family's health lifestyle we all now receive regular chiropractic care. Thanks Dr. Kent.
– Doralee
Paul's Story
Rory's Story
Lower Back Spasms
I have had lower back problems over the years and generally managed to keep them in check by moderating my activities. Recently, I pushed the envelope too far during some home renovations and my lower and mid-back went into severe spasm, due to extreme subluxation. My upper legs were also affected and I lost mobility and strength in my left foot. Normal recovery was not happening, so I searched the web for Chiropractors in Alliston and chose Dr. Kent, based on his considered approach to wellness. My instincts served me well. Dr. Kent provided a thorough and informative assessment. Together, we developed a plan to achieve sustained wellness, including addressing underlying neck issues, the catalyst for my back problems. Within two months of methodical treatment and exercises, my lower and mid-back are pain free, my legs and feet have regained their normal strength and we are now focused on the process of restoring alignment and posture in my neck. I learned a lot about myself and what I needed to do to improve my health.
Dr. Kent is passionate about his work. He really cares about his patients and goes well beyond providing treatment. He takes the time to explain what is occurring in the body and how it needs to be addressed. He enjoys interaction and the opportunity to educate, removing the mystery of the spine and central nervous system, which tends to make most of us hesitate to consult a Chiropractor, as an alternative to more traditional medicine. Most importantly, he helps patients understand the importance of taking ownership of their own wellness and developing habits to sustain good health. I consider Dr. Kent to be an excellent choice for anyone, young or older, who is experiencing joint pain. It's never too late!
– David P.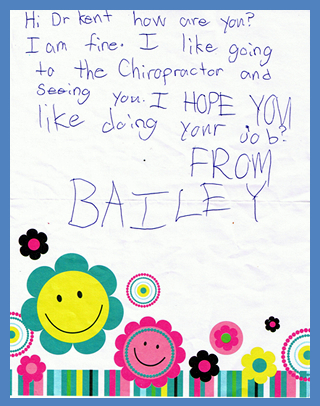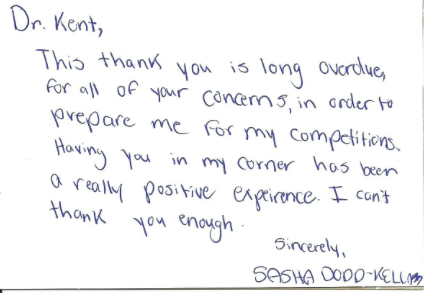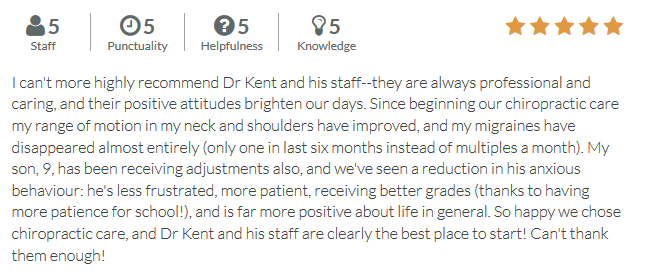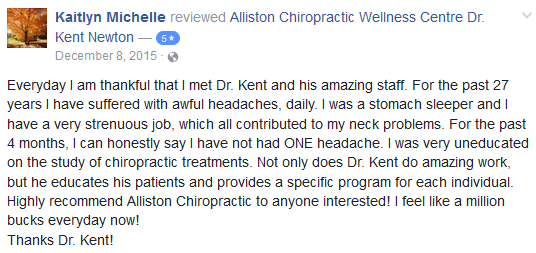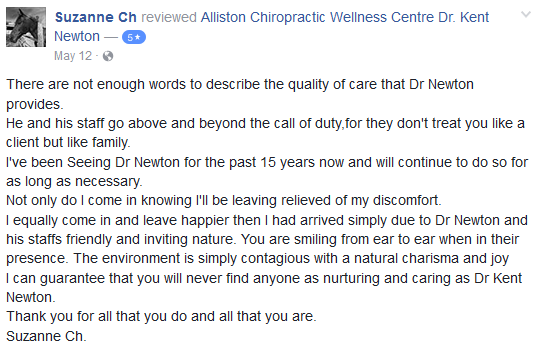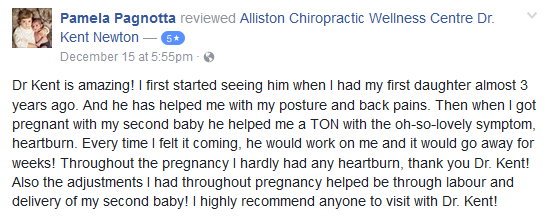 Alliston Chiropractic Wellness Centre Reviews | (705) 435-6371