5 Unique (and Inexpensive) Ways to Celebrate Father's Day this Year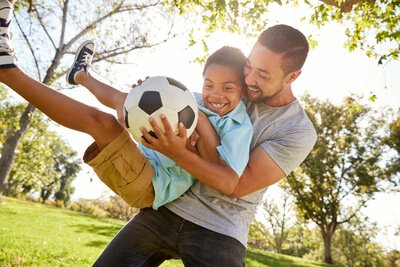 With Father's Day just around the corner, we bet you're trying to come up with the perfect gift for the special guy in your life.
At Alliston Chiropractic Wellness Centre, we value fun experiences and family time, and wanted to share a few unique ideas that could be perfect to celebrate the day with your family this year.
If you try one out, let us know how it goes!
1. Make a time capsule that can be opened on a future Father's Day. Have your kids write letters to their dad that include their special memories and things about him. He'll love opening it when the time comes!
2. Plan a movie night. Maybe the special guy in your life has a movie that he hasn't seen in a while. Or, consider making it a family affair with the kids, too. Some family-fun movies to consider include the following (all of which include a very important "dad"): Field of Dreams, The Pursuit of Happyness, National Lampoon's Vacation, and Big Fish.
3. Does your family like golf? You can build a mini-golf course in your backyard (or even inside, if you're careful) quite easily. All you need are golf balls and a putter or two. Surprise dad with a game in the afternoon that everyone can join in on. Instead of digging a hole, simply use a plastic cup laid on its side.
4. Invite friends and family over for lunch. Preparing something tasty to celebrate the occasion is something everyone can enjoy-especially when you're surrounded by loved ones. Here's some fun inspiration for an easy and festive snack board.
5. Help him get back to doing the things he loves most, like being active with his family, by purchasing a gift card to our practice. There's nothing quite like the gift of natural health-plus, we think he'll be grateful for the chance to feel better and maybe even get out of chronic pain!
On behalf of our entire team, we'd like to wish all of the dads out there a very happy Father's Day. We also celebrate the mothers who play the role of dad, too. We hope you have an incredible day and look forward to seeing your family in the practice soon.