From gifts to parties and family gatherings to baking, the holiday season can be a whirlwind of excitement and stress. Instead of letting it get the best of you, we wanted to share some tips for managing seasonal stress with real-world examples you can use to improve your well-being before 2021 comes to an end.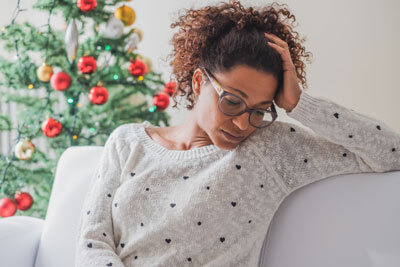 If you're feeling lonely…reach out to friends. Not everyone's holiday season is filled with big gatherings, especially those who may live in a different city than their loved ones. Check out local community events or set up video calls with relatives so you can feel closer to them this season.
If you're exhausted…schedule time for your health. The holidays can be a time of go, go, go, when we really need rest, rest, rest. Do your best to get adequate rest, maintain your exercise schedule, and limit frequent alcoholic drinks.
If you need a break from your family…remember to pick your battles and practice knowing when to walk away. Let's face it…with family dinners often come lots of opinions. If you're absolutely tired of hearing a political discussion for the umpteenth time, suggest a new dinner topic. If your mental health needs a break, excuse yourself to take a breather.
If things aren't going as expected…look for the good in things. The idea of a picture-perfect family gathering or party can set us up for failure, as reality is rarely as perfect as our dreams. By looking for the good in things, you'll be able to appreciate what you have even if it's different than how you imagined it.
If you feel like you can't get it all done…take a moment to center yourself. The holiday season can pull us in a million different directions. When you feel overwhelmed, stop pushing through and start slowing down. Create lists for things you still need to get done, and never be afraid to ask for help from family and friends.
If your finances are getting tight…set a budget before it spins out of control. By now, we've all seen the advertisements and commercials for the latest and greatest holiday gifts, and they rarely come cheap. If you have a lot of people to buy gifts for, you could also suggest drawing names with a group of friends for an exchange (commonly called "Secret Santa" or "White Elephant"). That way, you only have to buy one gift instead of several, cutting costs but not fun!
We hope you have a wonderful holiday season, and look forward to welcoming you in for an adjustment whenever you need us.