This last year has been a serious butt-kicker in our collective history. Everyday life has changed, our family activities came to a grinding standstill and little things we took for granted shifted and changed until we no longer recognized our own lives. While there were some drawbacks, there were some very important life lessons to be had. Old hobbies were resurrected, books were finished, new tasks taken on and maintaining relationships became more important than ever before. At a recent team meeting, we came to the conclusion that these challenging times have provided each one of us with some valuable life lessons.
Every year, for as long as I have been in practice, we have done a toy or food drive. For the last twelve years, we did two food drives each year and are so very thankful for the support of our patients because these events have provided so much to so many through the Good Shepherd Food Bank and the Alliston Lions Club. We did a modified event to support the local food bank this past spring. However, as this year comes to a close, we are shifting with the times and will pour our community support efforts into expressing our gratitude to the staff at Stevenson Memorial Hospital through their Foundation. We feel it is important to acknowledge and thank all the medical, administrative and support staff that bind our local hospital and health teams together.
For the months of November and December, we will be selling car decals and collecting donations for the Foundation. Even if we have not seen you for a while, please stop in. Please share the information, tell a friend, spread this around the community. Support the Hospital. Buy a $5 sticker.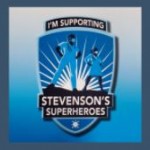 On 08 December 2020, we will have our "Big Event". For every treatment provided, each patient who pays upfront will receive a car decal and $20 from this visit will go toward the proposed expansion of our hospital. We are hoping for a very busy day and we hope you will be able to be part of this wonderful initiative.
Let's all decal our cars, bikes, scooters and snowmobiles
and
let's say thanks, together.