One of the most popular New Year's Resolutions is to eat better, but that shouldn't mean eating less [flavorful], bland food!
Instead, give these healthy, whole-food recipes a try that are good for your overall wellness.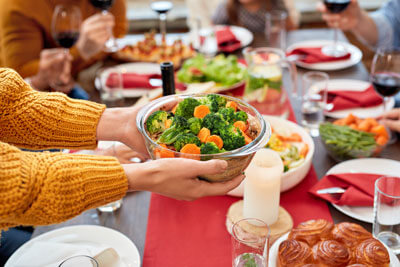 Breakfast: Sweet Potato and Kale Hash with Fried Egg
If breakfast is your favorite meal of the day, you're sure to love this tasty wake-me-up.
You'll need: 4 eggs, 2 sweet potatoes, 2 shallots, 1 red bell pepper, 2-3 cups frozen or fresh kale, cumin, paprika, red pepper flakes, salt, olive oil and butter. Get the full recipe here.
Why it's good for you: Sweet potatoes are full of Beta-carotene, a carotenoid and antioxidant that promotes good eyesight.
Lunch: Quinoa Black Bean Salad with Mango and Avocado
Looking for a healthy lunch option that will leave you satisfied? Here, you'll find protein, healthy fats, and a ton of vitamins and minerals, not to mention a great taste.
You'll need: Quinoa, low-sodium chicken (or vegetable) broth, olive oil, honey, cumin, ginger, cayenne, canned black beans, mango, limes, bell pepper, green onions, cilantro and avocado. Get the full recipe here.
Why it's good for you: Mangoes are a great source of potassium which can help lower blood pressure as well as regulate your digestive system.
Dinner: Garlic Parmesan Spaghetti Squash
Love carbs but hate how they make you feel? Give this pasta-dupe a try for a similar dish that's got [fibre], vitamin B6, and manganese.
You'll need: 1 spaghetti squash, 1 tablespoon olive oil, 3 tablespoons butter, 3 large cloves of garlic, ½ cup parmesan cheese, red chili flakes, sea salt and pepper to taste, and parsley to top. Get the full recipe here.
Why it's good for you: Fiber plays a crucial role in digestive wellness and is important for colon health.
Want to do even more for your oral health in 2022? Schedule an appointment with us to have your spine checked so you can jump into the New Year with a fully functioning nervous system.